Thanks so much to all the Vietnamese students who eagerly learned how to cook Ayurvedic food today in my cooking workshop! I have been meaning to post a Kitchari recipe, as it is essential in Ayurveda and my diet. I fell in love with this dish at the ashram because its simple to cook, only uses one pot and tastes great! Especially when you add a little extra ghee or coconut oil and some fresh lemon juice. If you are busy you can make this recipe in the morning and have food for all three meals of the day. Since I was teaching this recipe in Vietnam I designed it for a rice cooker, which makes it even easier since its almost impossible to burn, but please don't test that statement 🙂
If you don't have a rice cooker or want to make a bunch of Kitchari, just use a pot on the stove. I put a few notes on the bottom about this method. This is a very basic balanced recipe, but after you get the hang of how simple it is too cook, you can add extra spices like fennel, dill, coriander powder etc… and chopped veggies to make it more exciting.
Kitchari is considered a complete food in Ayurveda with many beneficial properties. It includes all the 6 tastes, is easy to digest, supports regular elimination and the detoxification of the body. It can be eaten as a single light meal or as an extended diet. It is often served with soft cooked green vegetables for added fiber plus the bitter and astringent tastes, further assisting the body in detoxification. Kitchari can be a wonderful cleansing diet because its easy to make, tastes great and you don't have to starve yourself to get the benefits of cleansing… Enjoy
Simple Kitchari in a Rice Cooker
Cooking Time: less than 1 hour (depends on your rice cooker)
Serves 3-4 people, or 1 person for the day.
Ingredients:
1 Cup (250 ml) Mung Dal, (Mung beans split without skin)
1 Cup (250 ml) White Rice
4 Cups (1L) Water
1 tsp (5mL) salt (more or less to taste)
1 tsp (5mL) cumin seed whole
1 tsp (5mL) black/brown mustard seed whole
1/2 tsp (2.5) turmeric
1/2 -1 tsp (2.5-5 mL) ground black pepper
1tsp fresh ginger chopped
2Tbsp (30mL) Ghee (substitute coconut oil if Vegan)
Optional Small chopped veggies of your choice (If you add other veggies cut them small so they will be soft when the rice is done cooking. Also depending on the vegetables used you may have to add a little extra water, you can always add some water and keep the cooker on warm until its done.)
For garnish:
Lemon/Lime wedges
Chopped Cilantro
Directions:
1. Soak Mung Beans overnight in cold water or one hour before in hot water. This is necessary since the beans cook more slowly than the rice.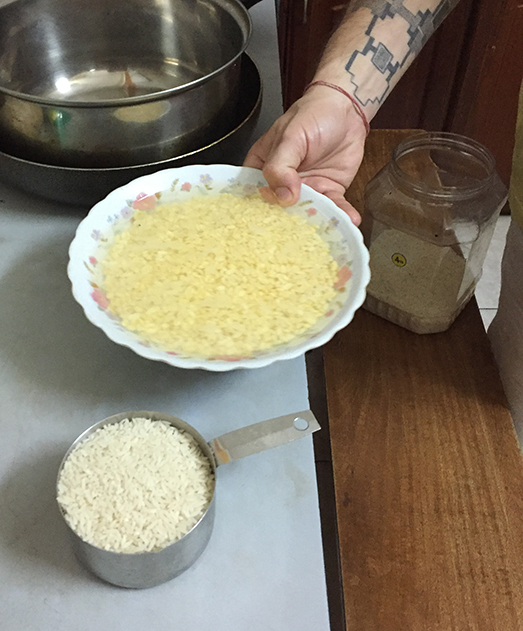 2. Add rice to mung beans and rinse together in fresh water, drain and add to rice cooker. Add all the rest of the ingredients, except lemon/lime and cilantro.
3. Stir well to mix all the ingredients, turn on the rice cooker.
4. When the rice cooker is done… stir the pot of kitchari to mix well. If you want a thicker Kitchari simply let it sit for some time in the "warm" setting and it will thicken. If the kitchari is too thick simply add a little water and stir well.
*This recipe use a 1 to 1 ratio mung dal to rice. You can increase the grain up to 4 times the mung beans.
*Get creative use different grains instead of white rice: basmati, brown rice, red rice, quinoa, millet, amaranth and more… You will have to adjust the water based on the grain you are cooking.
*If you want to make this on the stove, first cook the mung beans until they are soft then add all the other ingredients except lemon/lime and cilantro. You may need to use more water, remember to stir often. Cooking time is about one hour… but you can alway presoak the dal and rice to reduce cooking time by 10-15 minutes.