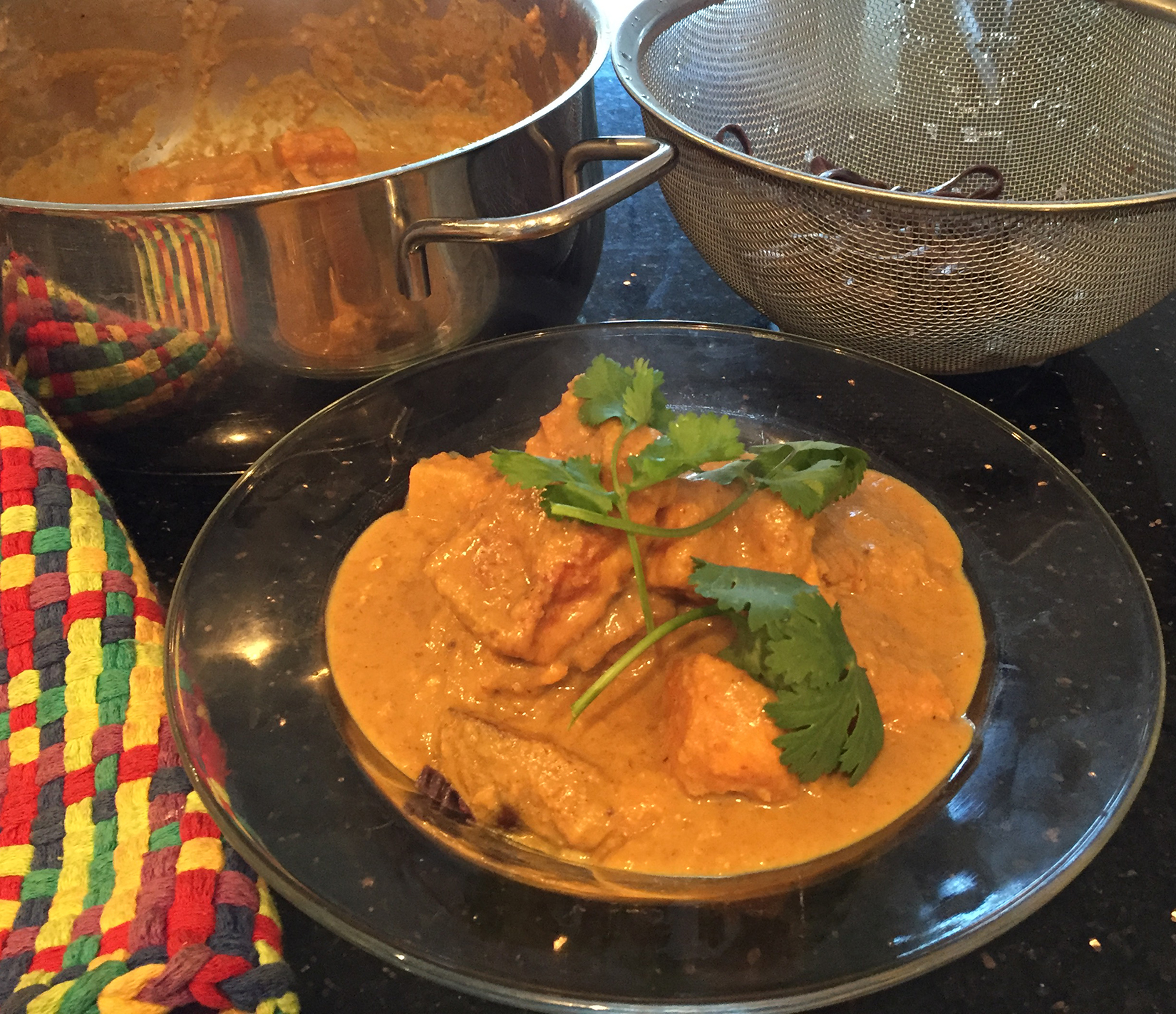 Oh yeah, after nearly a year of traveling its amazing to be back in a house with a Kitchen. So here comes a recipe. One of my all time favorites from the last three years traveling to Vietnam, Cari. You will typically see this as "Bun" Cari or "Banh" Cari. Bun meaning served over rice noodles and Banh meaning served with a crusty baguette. But you can also serve this delicious curry with rice or your favorite grain. They key to this recipe is lots of fresh lemon grass, fresh ginger and a good quality indian curry powder. Yes… its a Vietnamese curry with Indian curry powder but as my Vietnamese cooking teacher Lê Hồng says "Indian Curry Number 1!" Thanks so much for teaching me how to make this recipe. I had tried cooking this dish a few times before at the California ashram, but it never came out quite right…. I never would have guessed to use so much lemon grass. If you have a hard time finding lemon grass try an asian grocery store.
Why is this one of my favorites? Sometimes you want something a little richer than the lighter broth soups you typically find in Vietnam. Instead Cari brings a rich, sweet, spicy, hardy thick soup. Plus you can get a small baguette with it! I love bread. My friends and family have really enjoyed this during the winter back in the states.
When you are cooking its a super versatile one pot/pan recipe. You can use nearly any veggie or bean and it still tastes great. Cari is traditionally made with potato, sweet potato, and taro. I would suggest sweet potato if you only pick one; that way you will get a good creamy texture and proper color. I couldn't find taro when I made it this time and we use sun chokes instead of potato since it was already in the fridge. Pumpkin might be a great substitution for sweet potato, let us know if you try it. Remember the key is lots of lemon grass.
Vietnamese Curry over Black Rice Noodles
Total Time: 1 Hour (Total About 30min prep, 30min Cooking)
Serves 4 People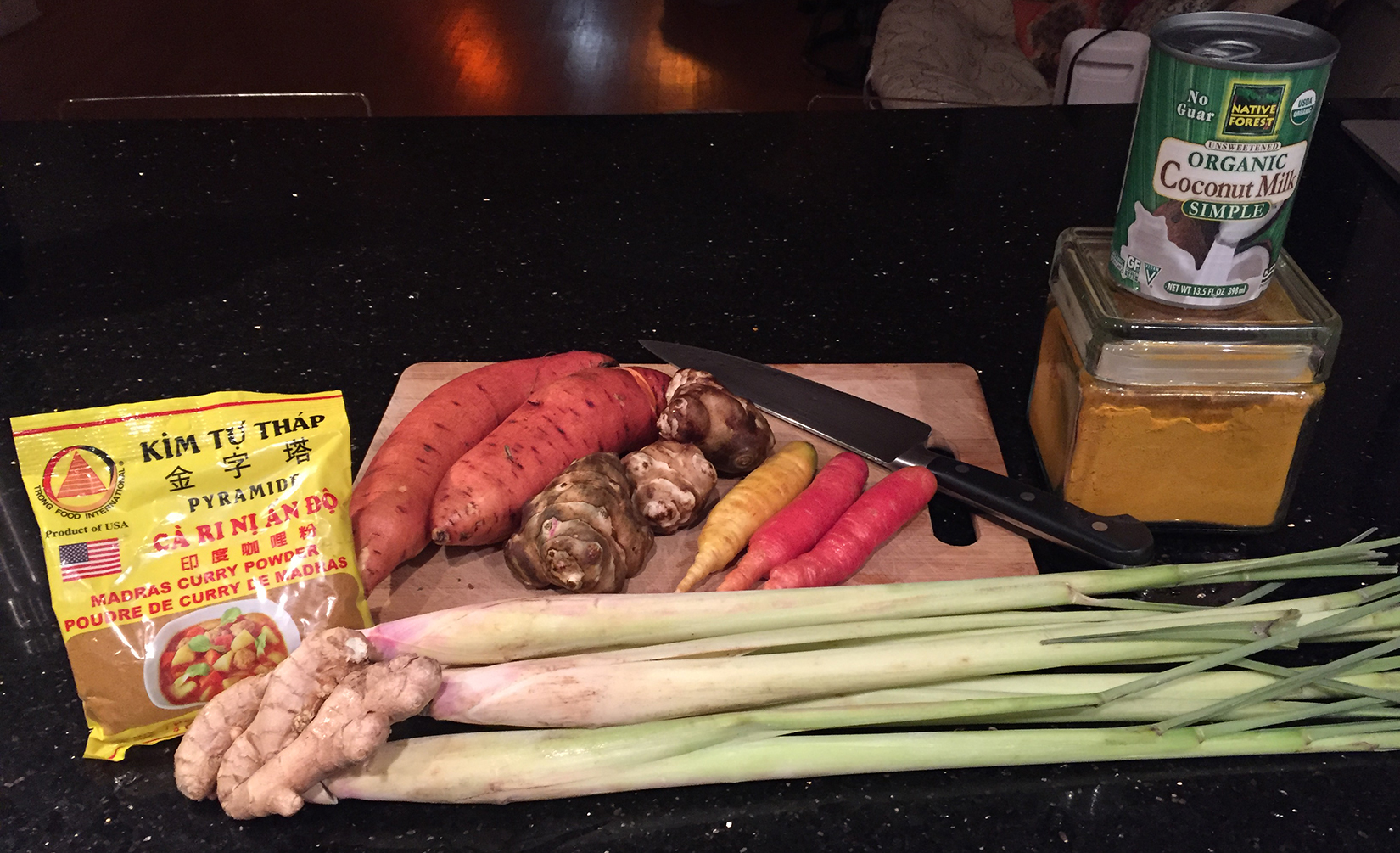 Ingredients:
Lemon Grass 2-3 Large Stalk
Ginger 3 inche piece
2 Medium Size Sweet Potato (Orange)
3 Carrots
3 Medium Sun Chokes (we used them instead of small potatoes)
1 Can Coconut Milk
12-16 ounces Tofu (medium firm/firm)
2-3 Tbsps Indian Curry Powder
1/2 tsp Tumeric
1 Tbsp Sucanat (unrefined sugar)
2 Tbsp Ghee or Coconut oil
Cooking oil to pan fry tofu (Optional)
Chili if you want it spicy (Optional)
Salt to taste
cilantro for garnish
Prepping Ingredients:
Grating Lemon Grass and Ginger: You can of course chop lemon grass by hand, but I prefer using a food processor for this recipe. If the lemon grass is not chopped up fine it can make the texture of the final curry a little funny That is, since its hard to chew up lemon grass.
Peel off the outer few leaves of the lemon grass and wash. Cut off the very bottom and thin tops. You should see a solid core in the middle of both ends. *Hint, you can boil the lemon grass tops you don't use in some water and have nice lemongrass tea while you cook or with the meal.
Cut in half sideways and place in the food processor. Let it go until everything sticks to the sides. I don't think you can over process the lemon grass. But you can see where I stopped below. If the lemon grass is not chopped enough scrape the sides down and blend again.
Put in a bowl, don't worry about cleaning out the food processor yet, we'll use it again for the ginger.

Cut the Ginger so the sliced pieces are circular on the ends (see below). If you cut the ginger the other way it may get stringy when put in the food processor. I don't usually peal my ginger but you are welcome to.
Put in the food process are chop it down to roughly the same size as the lemon grass.
Place in a bowl.
Now compare the lemon grass and ginger, we want a 3part Lemon Grass to 1 Part Ginger. The 5 stalks of lemon grass I chopped up turned into about 2 cups. I only used 1 cup of lemon grass in the recipe. If you end up with a little more or less than one cup of lemongrass its ok, but just don't over do the ginger remember 3-1 ratio. If you have extra ginger and lemon grass save them for another recipe or make tea! 
Cut the other veggies. I cut the sweet potatoes into about 1 inch pieces, the sun chokes and carrot about half that size. I try to cut each veggie a size that cooks quickly without it falling apart. If you cut the veggies larger just know the cooking time will be a bit longer.
Slice the Tofu into .5 inch thick pieces from the block
Heat about 1/4 inch of oil in fry pan, you can take a little piece of tofu and put in hot oil and wait until it starts to sizzle before adding the rest of the tofu.
Fry them until they are brown on each side, set aside for later (you can skip frying the tofu but it may fall apart more in the final curry.) Cut into smaller pieces as you wish. I just fry them in large pieces so its easier to manage in the oil.

Now its time to Cook! Lets get going…
Cooking the curry:
Heat 2Tbsps of Ghee/Coconut oil in a deep pan or medium size pot. All the ingredients will be in there soon.
Fry the Lemon grass on medium heat until its aromatic about 1-2 minutes or less, if it starts to brown remove from heat, turn down the heat and go directly the next step.
Fry ginger until it turns a light golden color another 1-2 minutes
Add Curry Powder and cook another 1 minute.
Add a cup of water.
Scrape the bottom of the pan/pot so loosen up any stuck on morsels.
Put the veggies in and cover with water and bring to boil, reduce heat to medium and let cook until sweet potatoes are soft. Add water as needed, you want there to be some liquid when the sweet potato is ready. You can test with a fork.
Now its time for the sauce. Empty the coconut milk into a blender with 1-2 cups of the cooked veggies. Just make sure you leave enough veggies to eat.
Blend until smooth add back to the pot.
Add Salt, Sugar, Tofu and Tumeric. The Tumeric is for the color and is not needed, but it will be much brighter orange with the Tumeric. You can also add more curry powder instead if you prefer.
Mix well cook on low heat for 5 minutes. If the curry is too thick and a little more water until the consistency is good for you. I like mine a little thicker…
Meanwhile cook rice noodles based on the instructions. Today I made black rice noodles just for fun but any noodle will do.
Drain and place in bowls.
Ladle finished curry over noodles, garnish with cilantro.
Say a Prayer and Enjoy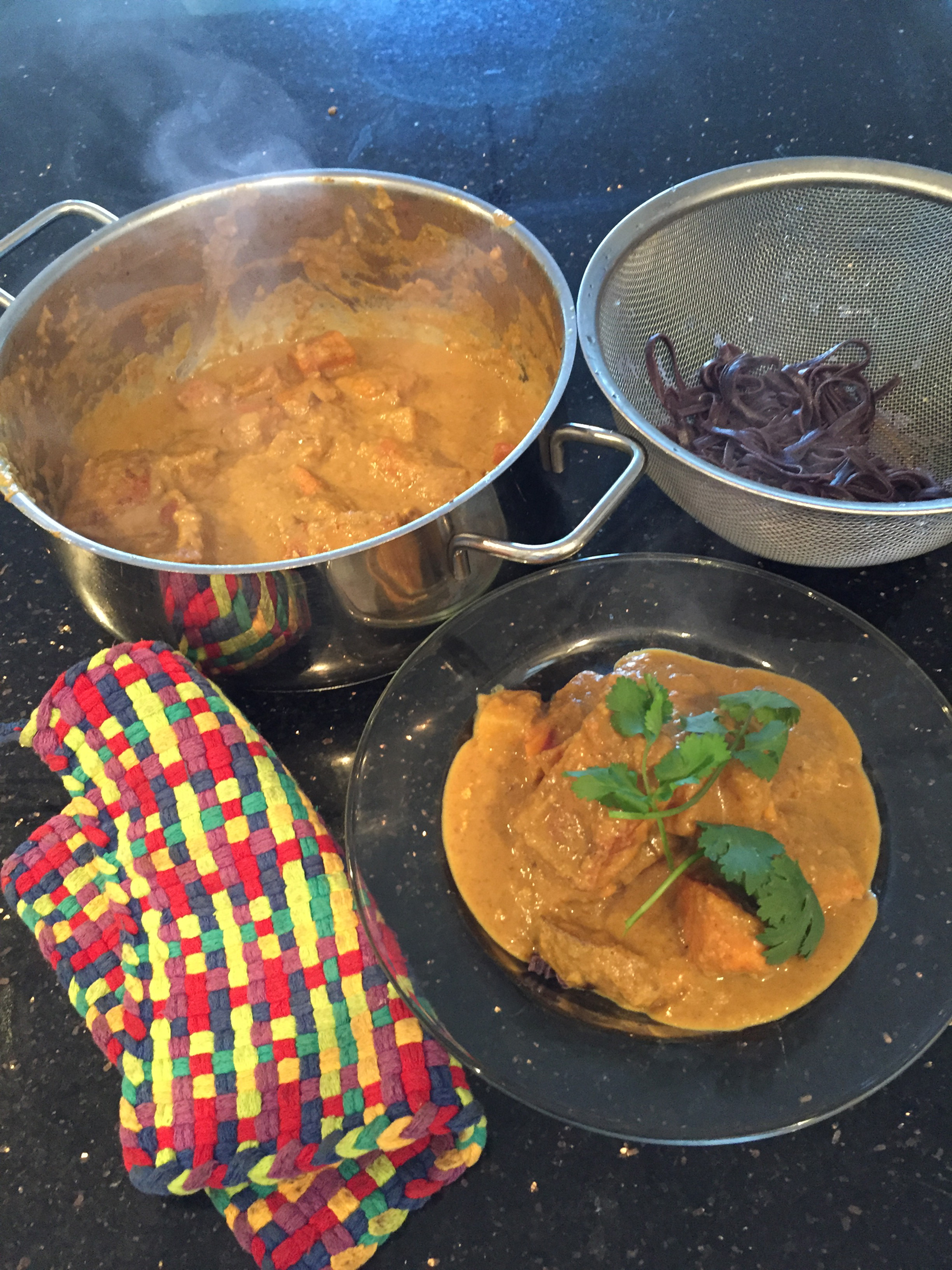 Let us know what you think, leave us a comment or send u s a message and… Remember to chew!